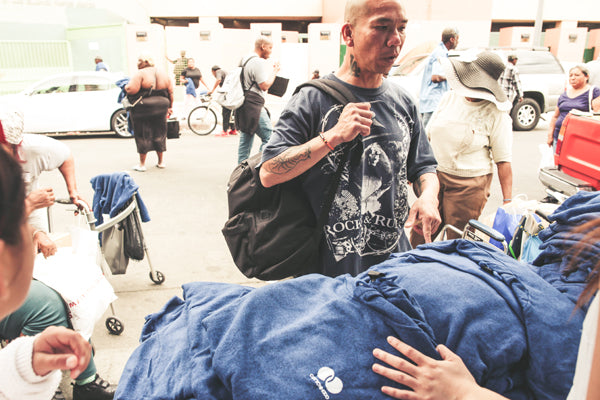 On Saturday June 16, 2018 we joined forces with the
Red Eye Inc
. organization once again to show some love and to honor over 200 plus residents of Skid Row for Father's Day in Los Angeles , California.  
  We distributed over 200 hoodies from Cottonhood to anyone that needed one until the hoodies were gone.  The men also received fresh haircuts, beard cleanups and touchups from several barbers from the L.A. area who also donated their time and services.
  The Red Eye Inc. organization had some great competitions to see just who would be crowned the Strongest Man for 2018. This was the 11th year that this event was held. Such competitions that were completed was the Tire Toss, Bench Pressing, Sledgehammer Smash, Tug of War, and everyones favorite the Truck Pulling Competition.
  There was tons of grunts, major sweating, fun, but most importantly an abundance of smiles throughout the day and throughout all competitions. It was great to see those who call Skid Row "Home" have so much fun on a beautiful day in L.A.
 Another huge thank you to
Red Eye Inc
. for sharing such a special day with us filled with opportunity, love, and compassion. It was quite a humbling and heart felt experience. We definitely were able to spread our brands message of Brotherhood, Sisterhood,
Cottonhood
and it was great to be able to spread love one hoodie at a time for a great cause.
Take a look at some of the images we caught that day below. One Love, Let Us All Unite.